How to get to the Bikeway
This map shows the general area around the Minuteman Bikeway which passes through Bedford, Lexington, Arlington, and Cambridge (click to enlarge).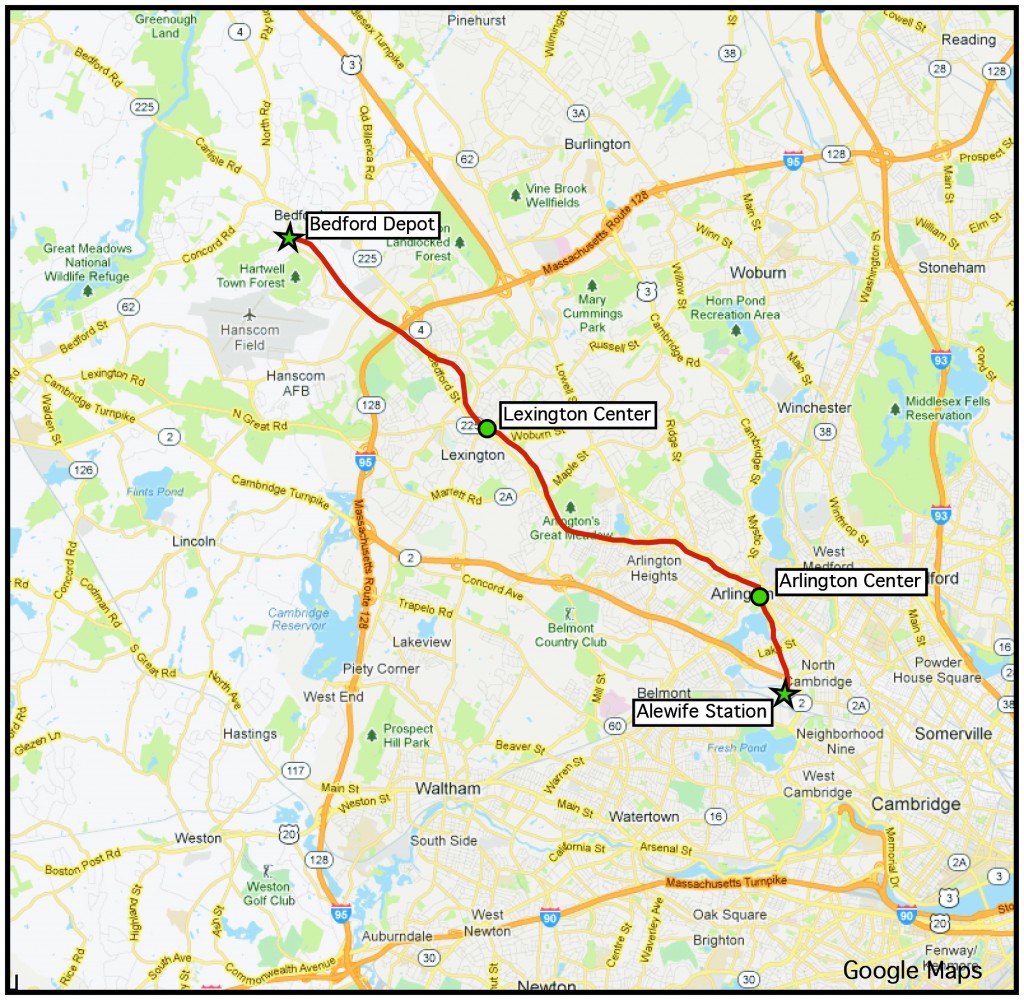 Minuteman Bikeway and surrounding area
By bicycle
Use the map linked here to find the Bikeway.  Access points are indicated by the black triangles.
By car to Bedford
Coming from Interstate 95 (MA-Rte 128), take exit 31B for Routes 4/225 North toward Bedford. At the fourth traffic signal (and CVS store), turn left on Loomis St. Go to end of street to intersection with South Rd. The bikeway is adjacent to the Freight House [Bedford Depot area map]. Three trails come together at Depot Park.
By car to Arlington/Lexington
Municipal parking lots are available in Lexington Center [area map] and Arlington Center [area map], near the bikeway. See the map on this page for a routes from major highways to Lexington Center or Arlington Center.
By car to Alewife/Cambridge
Take Route 2 toward Arlington/Cambridge, and enter the Alewife "T" Station parking garage. (You must pay the fee inside the station before leaving.) Three bikepaths come together at Alewife [see area map]. The Minuteman Bikeway is to the west of the station.
By public transportation
The Alewife "T" Station, at the east end of the Minuteman Bikeway, provides access to/from the metro-Boston subway system (via the Red Line) as well as numerous bus routes. For routes and schedules, visit the Massachusetts Bay Transportation Authority (MBTA) website at www.mbta.com, or call 617-222-3200 (toll-free: 1-800-392-6100).