Minuteman Commuter Bikeway
America's Revolutionary Rail Trail
News and Events:
  Minuteman Bikeway Planning Project. The Arlington Department of Planning and Community Development has announced the Minuteman Bikeway Planning Project, which will review and make recommendations to improve the Minuteman Bikeway in Arlington. The project's goal is to create a plan for the Bikeway that will address safety and access on and to the Bikeway, identify community goals and priorities, and develop an implementation plan for improvements. This project is funded through the Community Preservation Act. For more information visit ABAC's website.
  Link to information about renting bicycles along the Bikeway.
 The History of the Lexington Branch, from Railway to Bikeway.  The history of the Minuteman Bikeway.  View this beautiful and href="https://videoplayer.telvue.com/player/c0gKv9ZUF0uiidDafFfESDZA5EkkJp7L/media/382524">informative presentation by Sam Doran and Tom Fortmann which was presented at the Lexington Depot on the occasion of the 25th anniversary of the Minuteman Bikeway.  The sldes from the presentation can be viewed at higher resolution here-- PowerPoint slides.
  Minuteman Bikeway Videos.   Revival, The Story Of The Minuteman Commuter Bikeway has been posted on YouTube.  Also of interest is The Minuteman Trail.  America's 500th Rail Trail.  This video was made when the Bikeway was finished to document its conception and construction.
  Communicating with other cyclists using the Minuteman Bikeway.  mmbikeway@gmail.com -- is the email to reach all three town committees/reps about conditions on the bikeway, questions, etc.  On Twitter use @bikeminman. For current conditions on the Bikeway, follow @bikeminuteman and @pinwheeels on Twitter.
Submit current Bikeway conditions to mmbikeway at gmail dot com.
The Minuteman Bikeway passes through the historic area where the American Revolution began in April 1775. Today, the Minuteman Bikeway is one of the most popular and successful rail-trails in the United States, enjoyed for both healthy recreation and transportation.
The bikeway has become a new type of "Main Street" where neighbors and strangers alike come together while riding, walking, or skating on the path. In 2008, Rails-to-Trails Conservancy inducted the Minuteman Bikeway into the national Rail-Trail Hall of Fame.
Built by the Commonwealth of Massachusetts on an inactive railroad right of way, the Minuteman Bikeway has become a treasured regional resource, used by local residents and visitors from near and far. Connecting to the Alewife "T" Station in Cambridge, the bikeway provides an easy way for bicyclists and pedestrians to travel to and from subway and bus lines, serving to reduce automobile traffic in the area.
The bikeway is collectively managed and maintained by the four communities it passes through: Bedford, Lexington, Arlington, and Cambridge.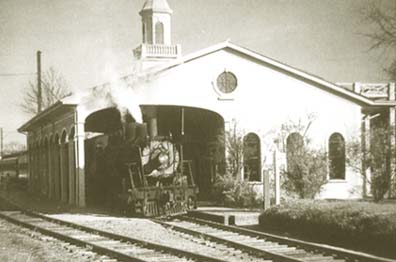 This 1954 photograph shows a steam locomotive passing under the Lexington Center Depot's train shed. Today, the Minuteman Bikeway passes through this railroad structure. (Photo courtesy of Mystic Valley Railway Society.)
Minuteman Connections
Bikes on the T
Bicycles are allowed on MBTA Commuter Rail and subway trains (Red, Orange, and Blue Lines) all day on weekends and during off-peak hours on weekdays.
NOTE: You do not need a special pass or permit to bring your bike on the T, so it's easy! For MBTA bike-accommodation guidelines, see www.mbta.com/riding_the_t/bikes.
Other Nearby Bikeways
 Narrow Gauge Rail-Trail (Bedford). Stone-dust trail near the end of the Minuteman Bikeway in Bedford which extends to North Billerica.
 Minuteman Bikeway Extension (Reformatory Branch, Bedford, Concord). Unpaved trail from the end of the Minuteman Bikeway in Bedford, ending near the historic Old North Bridge in Concord. www.bedfordma.gov/sites/bedfordma/files/u133/minuteman_bikeway_extension_-_aug_4_2014.pdf
 Battle Road Trail – Minute Man National Historical Park (Lexington, Lincoln, Concord). Stone-dust trail providing cycling and walking access to the national park's historical and natural resource areas. See www.nps.gov/mima/index.htm.
 Fitchburg Cutoff Bike Path. Paved rail-trail from northwest corner of Alewife MBTA station to Brighton St. near the Cambridge–Belmont border. see map
 Linear Park Path and Somerville Bikeway (Cambridge, Somerville). Paved bikeways from Alewife Station in North Cambridge to Davis Square and beyond in Somerville. Plans are under way to extend this path to Boston. See www.pathfriends.org.
 Alewife Connector and DCR Alewife Greenway Paths. These are multi-use, community trails along the Alewife Brook and State Department of Conservation and Recreation's Alewife Reservation [map]. For more information, see the Friends of the Alewife Brook Area Community Paths website at http://www.pathfriends.org/alewife.
 Fresh Pond Paths (Cambridge). Paved 3-mile path around Fresh Pond Reservoir, with dedicated bike path beside Fresh Pond Parkway. www.cambridgema.gov/Water/freshpondreservation/reservationuserinformation/freshpondreservationtrails.aspx
 Charles River Bike Paths (Boston, Cambridge, Watertown). 14-mile paved loop traveling alongside both banks of the Charles River from the Museum of Science in Boston to Watertown, passing through the Boston Esplanade. See www.mass.gov/dcr/parks/metroboston/charlesR.htm.
 Nashua River Rail-Trail (Ayer, Groton, Pepperell, Dunstable). 11-mile paved trail, featuring spectacular wetlands scenery. See www.mass.gov/dcr/parks/northeast/nash.htm.
 Bruce Freeman Rail-Trail(Chelmsford, Westford, Carlisle). Phase 1 of this trail is complete through Chelmsford into Westford. The trail will eventually reach Framingham. See http://brucefreemanrailtrail.org/visit-bruce-freeman-trail/.
 Assabet River Rail-Trail Proposed bike path linking the communities of Marlborough, Hudson, Stow, Maynard, and Acton; much of this trail parallels the Assabet River. (Portions of this bike path are currently being constructed.) See http://www.arrtinc.org/.
For a complete listing of bike paths in Massachusetts (both existing and future), see MassBike's website at www.massbike.org/resourcesnew/pathstrails. http://www.massbike.org/resourcesnew/pathstrails/.
For a directory of rail-trails in the USA, see www.traillink.com.
Massachusetts Bicycle Coalition (MassBike): massbike.org
 New England Mountain Bike Association (NEMBA): www.nemba.org
 Quad Cycles Group Rides.
Bike shops along the Bikeway
 The Bikeway Source, Bedford
 Battle Road Bikes, Lexington
 Quad Cycles, Arlington, Arlington
 The Bike Stop, Arlington
Alan McClennen, Jr., and Tom Fortmann at the Minuteman Bikeway opening ceremony, Lexington Center, 1993.
Bikeway Dedications
In Lexington in 1993, the Minuteman Bikeway was dedicated to the memory of Jack Eddison, who served many years as a Selectman and worked to champion the bikeway project. In Arlington in 2000, the bikeway was dedicated to Donald Marquis, who served 34 years as Town Manager and was also intrumental in the bikeway's completion.
Twenty years in planning, the Minuteman Bikeway might still be a dream if not for the tireless efforts of two community advocates: Tom Fortmann of Lexington and Alan McClennen, Jr., of Arlington. Tom and Alan, we thank you for making your dreams of a bikeway come true. We gratefully dedicate this website to you.
We also applaud the efforts of Cathy Buckley at Central Transportation Planning Staff (CTPS) for her efforts in the design and construction of the Minuteman Bikeway.
Website Credits
This website was developed by Jack Johnson and Stephan Miller.  The webmaster is Stephan Miller.